The Year of the Fire MONKEY – 4713


February 8, 2016 – January 27, 2017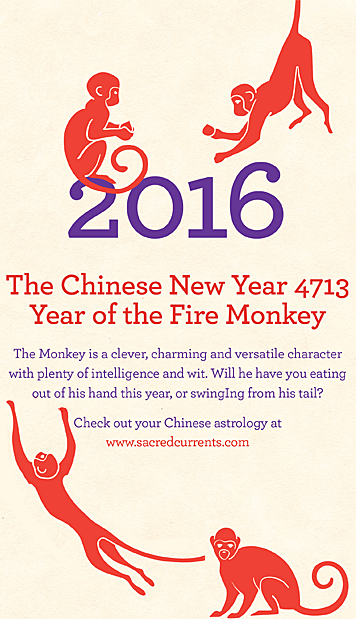 The following information is compiled from a large group of resources. For those of us less familiar with the Chinese Zodiac, it is made up of 12 animal signs and 5 elements, comprising a 60 year cycle. This is the year of the FIRE MONKEY. Ancient lore says, Buddha invited all of the animals in the world to join him for the New Year celebrations, but only 12 animals bothered to turn up. As a great reward, Buddha named a year after each one of them and they run in the order that the animals arrived to celebrate with Buddha, starting with the Rat and ending with the last guest, the Pig.
The 5 Elements (which you can read about at http://sacredcurrents.com/about-feng-shui/about-elements/) are Water, Wood, Fire, Earth and Metal. This year's Monkey is in the Fire element, which opposes the Monkey's natural element – Metal. Thus, it may be a trying year and one with potential volatility, especially for the financial markets as the Metal Monkey is associated with gold or money. On the other hand if you tend the Fire carefully, it can shed light on the opportunities you are looking for.
As the Monkey is known for being clever, intelligent and resourceful, it should be a year of new innovation and invention. The Monkey is a problem solver but he can also create them. This is a time of risk taking and there is the potential of sudden changes of all kinds (don't try to keep a Monkey down). It is important to keep your sense of humor in the year of the unpredictable Monkey.
It is always fun to name a few famous Monkeys. These include Julius Caesar, Daniel Craig, Bette Davis, Jake Gyllenhaal, Eleanor Roosevelt, Betsy Ross, Diana Ross, Will Smith, Elizabeth Taylor, Harry S. Truman, Leonardo da Vinci, Sacha Distel, Omar Sherif, Jimmy Page, Roger Daltrey and George Lucas.
____________________________________________
Prior to the Lunar New Year, it is a good idea for all of us to 'clear house' both physically and metaphorically. In other words clean up outstanding debts, issues and generally complete things before the lunar New Year. All signs will do well to perform the 'Golden Cicada Sheds Its Shell' ritual, along with 'Welcoming in the Wealth God' and 'Changing the Chi of the Environment.'
According to Flying Star Feng Shui, the Southwest is where the wealth star (the 8 star) is residing in 2016. This area will be enhanced with activity, a water element or something moving like a kinetic sculpture. The Tai Chi or center of the bagua, and the Northwest are sources of negativity, so try to stay away from renovations in these sectors. In addition, a 'Salt Cure' will help to mitigate any ill effects from the 5 Yellow Star in the Northeast, which can be the cause of instability and illness there.
Each zodiac animal has its own qualities that are consistent year to year, yet every sign will be influenced by the Monkey's energy this year. Below are some insights for each zodiac animal in 2016. Please note that fortunes can be reduced or enhanced with Feng Shui, rituals, meditations and transcendental adjustments and that all people have their own karma to consider. A personal, in depth reading will reveal more specifics for each month. Remember that even the luckiest signs (the Rat and Dragon this year), have their cautions and the unluckiest (the Tiger and Pig) have their bright spots.
All of the transcendental adjustments suggested below are available in H.H. Grandmaster Lin Yun's Year of the Monkey Almanac available at the Lin Yun Temple website www.yunlintemple.org/
Individual adjustments can be acquired through Sacred Currents by sending 9 Red Envelopes with $27 and a self addressed white envelope to:
Sacred Currents
c/o Judith Wendell
11 East 88th Street 7D
NYC, NY 10128
The "Golden Cicada Sheds Its Shell" requires cinnabar. Please include an additional $9 ($36 total) if you want it sent with the ritual.
A 3-dimensional Monkey, Rat or Dragon (the luck animals for the year depending on your year of birth – see below) can be acquired through Sacred Currents. Send $9 for each animal ordered and $5 for priority postage (regardless of the number of animals you order.) Again, send your address and check to the address above.
____________________________________________
INSIGHTS FOR THE 12 CHINESE ANIMALS:
RAT
– 1912, 1924, 1936, 1948, 1960, 1972, 1984, 1996, 2008



Rats are charming creatures with a large dose of intelligence. They are adaptable and warm-hearted and have a sharp eye for detail which will be grounding and an asset to the schemes of the irrepressible Monkey. This year the Rat is in the most compatible relationship with the Year God or Monkey, just the opposite of the last two years. So breathe a sigh of relief! Your friend the Monkey will support both your income and loving relationships. Oxen, Dragons, Snakes and Monkeys are the Rat's good friends. Your talisman is a Monkey or Dragon.
OX
– 1913, 1925, 1937, 1949, 1961, 1973, 1985, 1997, 2009



The Ox is dependable and works hard to accomplish the goal. They generally do not form many close relationships but are reliable, loving partners. Monkey energy is a bit too erratic for the Ox but he can bring you out of your cave to be a bit more social. This could be very beneficial for your career. In turn, you can offer the Monkey stability and protection if he lets you. Besides doing the Golden Cicada ritual on New Year's Eve, carrying a Rat will help to keep you in the Monkey's good graces. You're compatible with the Rat, Rooster and Snake.
TIGER
– 1914, 1926, 1938, 1950, 1962, 1974, 1986, 1998, 2010



The wonderfully intense vitality of the Tiger makes you both passionate and optimistic. Yet you can also be possessive and indecisive. This year you are directly opposed to the Monkey and he will not have your back. So don't take any risks or make any big changes. As a matter of fact, it is a good year to lay low where the pressure won't be too intense. Maintain your high level of integrity and you'll ride this one out just fine. Carry a Dragon and Rat for extra insurance. The most compatible signs for the Tiger are the Pig, Dog and Horse.
RABBIT
– 1915, 1927, 1939, 1951, 1963, 1975, 1987, 1999, 2011



The graceful and sensitive Rabbit is in for a year of collaboration with good business opportunities. Wealth and recognition will go hand in hand. The Rabbit's strong intuitive nature should be used to build the loving relationship you are looking for. Take the time to retreat and care for yourself. The best partners for the Rabbit are the Rams, Dogs and Pigs. Carrying a Monkey will align you with the year god.
DRAGON
– 1916, 1928, 1940, 1952, 1964, 1976, 1988, 2000, 2012



The intelligent, demanding and energetic Dragon has high standards and this is your year to show off all your talents. Career opportunities are good and there are possibilities for unexpected income. You can also look forward to being in romantic heaven. It is a joyful and prosperous year. Your most compatible signs are the Monkeys, Rats and Snakes. Carry a Rat and a Monkey and you'll optimize the '3 Harmony' relationship you are in this year.
SNAKE
– 1917, 1929, 1941, 1953, 1965, 1977, 1989, 2001, 2013



The Snake is known for its passion, talents and tenacity. Monkey and Snake are intrigued by one another but the Snake should not be seduced by the Monkey's charms. Instead be conservative and your investments will be profitable. For the most part, good fortune will come from hard work this year. Romantically the male Snake has better prospects than the female. Your best partners are the Ox, Rooster and Dragon. It is advisable to do the Golden Cicada this New Year's Eve as well as Changing the Chi of the house and carry a Dragon talisman.
HORSE
– 1918, 1930, 1942, 1954, 1966, 1978, 1990, 2002, 2014



The Horse is a social, optimistic and non-conforming animal. Their changeable nature needs plenty of stimulation. Career advances are commensurate with the workload you are willing to take on. So don't get fooled by the Monkey telling you there is a quick and easy way around things this year. In love too, the results will be reflected in the efforts you make. The Horse is most compatible with the Tiger, Dog and Ram. It is best to carry a Monkey this year.
RAM
– 1919, 1931, 1943, 1955, 1967, 1979, 1991, 2003, 2015



The Ram is a sensitive, good-natured and creative animal. Although you are happy to be out of the spotlight of the last year and have the Monkey in the hot seat, follow his lead and be more social, network and get connected. It will enhance your career as well as your personal relationships. Your talent and experience will shine this year. Be open to the benefactors available to you. Your most compatible allies are the Horse, Pig, Rabbit and Tiger. For protection do the Golden Cicada on Chinese New Year and carry a Monkey.
MONKEY
– 1920, 1932, 1944, 1956, 1968, 1980, 1992, 2004, 2016



Versatile Monkeys use their lively, clever and ambitious personalities to their advantage. This year the year god is 'sitting on your head.' It is your year and the pressure is on. But you can avoid misfortune by being financially conservative, being polite, humble and persistent – none of which are your strong suite. Do not be frustrated by being satisfied with things staying at status quo. Your good friends are the Dragon and Rat and it would be good to carry both for your lucky talisman as well as doing the Golden Cicada.
ROOSTER
– 1921, 1933, 1945, 1957, 1969, 1981, 1993, 2005



The Rooster is a talkative perfectionist who is known for directness and hard work (not the Monkey's thing!). Your relationship with the Monkey is relatively neutral. So save yourself for next year and keep your head down. Don't take chances and stay the course with work and investments. Your compatible signs are the Snake, Ox and Dragon. A Dragon talisman will help you to avoid dangers.
DOG
– 1910, 1922, 1934, 1946, 1958, 1970, 1982, 1994, 2006



Dogs are loyal and likable, intelligent and morally sound. Thus watch that the trickster Monkey doesn't comprise your integrity. On the other hand this is a year to be more social and relaxed. Hand off some of that work knowing this is a happy and prosperous year. Dogs are compatible with the Horse, Rabbit and Tiger. Carrying a Monkey charm will be supportive this year.
PIG
– 1911, 1923, 1935, 1947, 1959, 1971, 1983, 1995, 2007



The intelligent, social and likeable Pig is a pleasure seeker and this is a good year for a party. Career and finances should be good this year but stay alert as you are at a 90 degree conflict with the Monkey. If you're complacent or allow your gullible nature to enter the picture, your fate can change. You are most compatible with Rabbits, Rams and Tigers. Carry a Rat this year and do the Golden Cicada ritual.
According to ancient tradition there are 3 types of luck – Heaven, Earth and Man-made luck. Heaven luck is your astrology, which cannot be changed. We cannot change the time, place or family we were born into. Earth Luck is where Feng Shui comes into play and can either strengthen your luck by attracting auspicious energies and protect or prevent negative energy from coming to us. Manmade Luck is what we create through networking, education, good habits, self-improvement, meditation, etc.
If you would like help insuring your Earth Luck with specific Feng Shui recommendations for your home and/or office in this Year of the Wood Ram, please contact me for an on-site or phone consultation at:
'Gung Hey Fat Choy'
Wishing You Prosperity, Judith Wendell