The Year of the Wood RAM – 2015
February 19, 2015 – Feb 7, 2016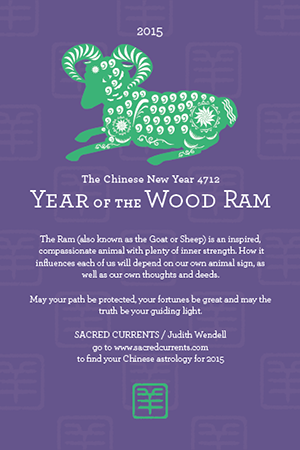 The following information is compiled from a large group of resources, most notably, "Three Rams Bring a Surge of Good Luck" – the 2015 calendar of H.H. Grandmaster Lin Yun and Khadro Crystal Chu Rinpoche and the "Classic Chinese Almanac – Year of the Wood Ram – Yi Wei – 2015" by Dr. Edgar Sung.
For those of us less familiar with the Chinese Zodiac, it is made up of 12 animal signs and 5 elements, comprising a 60 year cycle. This is the year of the Wood Ram – also known as the Sheep or Goat. Ancient lore says, Buddha invited all of the animals in the world to join him for the New Year celebrations, but only 12 animals bothered to turn up. As a great reward, Buddha named a year after each one of them and they run in the order that the animals arrived to celebrate with Buddha, starting with the Rat and ending with the last guest, the Pig.
The 5 Elements (which you can read about at http://sacredcurrents.com/about-feng-shui/about-elements/) are Water, Wood, Fire, Earth and Metal. Although this year has Wood and Earth as it stem and branch (elements that are oppositional), because of their positioning we can look forward to more stability in the economy and government. There is also hope that the environment will be given greater consideration. As the Ram is a Good Samaritan, highly creative, and intelligent, this year should bring more peace to the world. In fact, the Chinese word for 'ram' has links to the word 'luck. So the very sound of 'ram' implies auspiciousness.
It is always fun to name a few famous Rams. These include Jane Austen, Anne Bancroft, George Burns, Catherine Deneuve, Robert De Niro, John Denver, George Harrison, Mick Jagger, Sir Laurence Olivier, John Wayne, Bruce Willis. Unfortunately President Obama is an Ox which is the sign most opposed to the Ram, so he will not have an easier time this year.
Prior to the Lunar New Year, it is a good idea for all of us to 'clear house' both physically and metaphorically. In other words clean up outstanding debts, issues and generally complete things before the lunar New Year. All signs will do well to perform the 'Golden Cicada Sheds Its Shell' ritual, along with 'Welcoming in the Wealth God' and 'Changing the Chi of the Environment'.
According to Flying Star Feng Shui, for every environment the North is where wealth (the 8 star) is residing in 2015. This area will be enhanced with activity, a water element or something moving like a kinetic sculpture. The Southwest, the West and Northeast are sources of negativity, so try to stay away from renovations in these sectors. In addition, a 'Salt Cure' will help to mitigate any ill effects from the 5 Yellow Star in the West, which can be the cause of instability and illness there.
____________________________________________
Each zodiac animal has its own qualities that are consistent year to year, yet every sign will be influenced by the Ram's energy this year. Below are some insights for each zodiac animal in 2015. Please note that fortunes can be mitigated or enhanced with Feng Shui, rituals, meditations and transcendental adjustments and that each person has their own karma to consider. A personal, in depth reading will reveal more specifics for each month. Remember that even the luckiest signs (the Rabbit, Horse, Pig and Tiger this year), have their cautions and the unluckiest (the Rat and Ox) have their bright spots.
All of the transcendental adjustments suggested below are available in H.H. Grandmaster Lin Yun's Year of the Ram Almanac available at the Lin Yun Temple website.
Individual adjustments can be acquired through Sacred Currents by sending 9 Red Envelopes with $27 and a self addressed white envelope to:
Sacred Currents
c/o Judith Wendell
11 East 88th Street 7D
NYC, NY 10128
The "Golden Cicada Sheds Its Shell" requires cinnabar. Please include and an additional $9 ($36 total) if you wanted it sent with the ritual.
A 3-dimensional Horse, Rabbit and Pig (the luck animals for the year depending on your year of birth – see below) can also be acquired through Sacred Currents. Send $9 for each animal ordered and $5 for priority postage (regardless of the number of animals you order.) Again, send your address and check to the address above.
____________________________________________
INSIGHTS FOR THE 12 CHINESE ANIMALS:

RAT – 1912, 1924, 1936, 1948, 1960, 1972, 1984, 1996, 2008
Rats are charming creatures, which have a large dose of intelligence. They are adaptable and warm-hearted and have a sharp eye for detail. This year the Rat is in the most confrontational relationship with the Year God or Ram. Meditation will be beneficial to your health concerns. Learn to be flexible in situations. Financially it could be a good year with benefactors at your side. You have good opportunities to find a life partner but use extra caution in doing so. It is recommended that Rats do the Golden Cicada ritual on Chinese New Year's eve along with Changing the Chi of the House ritual and carry both a Pig and Rabbit talisman. Oxen, Dragons, Snakes and Monkeys are the Rat's good friends.

OX – 1913, 1925, 1937, 1949, 1961, 1973, 1985, 1997, 2009
The Ox is dependable and works hard to accomplish the goal. They generally do not form many close relationships but are reliable, loving partners. This is not an easy year for Oxen as their sign clashes with the Ram. This is a year to surrender your own desires and go with the flow. Guard against impatience and think twice before taking any action while setting realistic goals. Be cautious when traveling, driving and in your daily activities as you could be accident prone. Besides doing the Golden Cicada ritual on New Year's Eve, a regular practice of good deeds will balance your fate. Carrying a Rabbit and Pig will help to soften the Ram's sentiments to you. You're compatible with the Rat, Rooster and Snake.

TIGER – 1914, 1926, 1938, 1950, 1962, 1974, 1986, 1998, 2010
The wonderfully intense vitality of the Tiger makes you both passionate and optimistic. Yet you can also be possessive and indecisive. This year the floodgates open to good opportunities for investments and in business. Working closely with your associates will improve your reputation and success which could be formidable. Be mindful both of your own jealousy and that of others. Fortunately you will have unseen benefactors this year as protection. Carry a Horse for extra insurance. The most compatible signs for the Tiger are the Pig, Dog and Horse.

RABBIT – 1915, 1927, 1939, 1951, 1963, 1975, 1987, 1999, 201
The graceful and sensitive Rabbit is in for a year of financial and professional rewards. Along with the
Pig, the Rabbit is in the beneficial position of 'Three Harmonies' with the Ram this year. The Rabbit's strong intuitive nature should be used to build relationships of mutual understanding. Remember to avoid being reactive or contributing to any discord. If there are difficult times, there will be help available, so be patient. The best partners for the Rabbit are the Rams, Dogs and Pigs. Carrying a Rabbit and Pig will please the Ram.

DRAGON – 1916, 1928, 1940, 1952, 1964, 1976, 1988, 2000, 2012
The intelligent, demanding and energetic Dragon has high standards. Yet this year conservative goals are the ones that are attainable so stay grounded and not too ambitious. In other words do not get involved in any risky investments or confrontations. This year's hard work will lay the foundation for future success. If single you may have many romantic connections this year – one of which may be 'the one'. Your most compatible signs are the Monkeys, Rats and Snakes. The Horse is your talisman this year.

SNAKE – 1917, 1929, 1941, 1953, 1965, 1977, 1989, 2001, 2013
The Snake is known for its passion, talents and tenacity. This may be a year for both personal and business travel. Try to create balance in your life so you don't get too stressed out. This is not a year to be aggressive. Any legal issues should be settled out of court. If you get involved romantically, thoroughly check out the trustworthiness and compatibility of the person as it can lead to marriage. Be patient this year and advancement will come. Your best partners are the Ox, Rooster and Dragon. It is advisable to do the Golden Cicada this New Year's Eve as well as Changing the Chi of the house and carrying a Horse talisman.

HORSE – 1918, 1930, 1942, 1954, 1966, 1978, 1990, 2002, 2014
The Horse is a social, optimistic and non-conforming animal. Their changeable nature needs plenty of stimulation. The Horse is in 'Six Harmonies' and best friends with the Ram, thus there will be good luck, prosperity and happiness. Yet, this is a year to be careful to match your abilities to the opportunities and to pace yourself for the year. There are good aspects for a new or existing relationship. The Horse is most compatible with the Tiger, Dog and Ram. Certainly you could not go wrong carrying your likeness in a 3 dimensional talisman.

RAM – 1919, 1931, 1943, 1955, 1967, 1979, 1991, 2003, 2015
The Ram is a sensitive, good-natured and creative animal and in 2015 is sitting in the seat of the 'Tai Sui' or year god. This can generate bad luck however with the Ram's auspicious nature it will be a lucrative year. However pay attention to all aspects of your health and your home. Focus on self-improvement this year and remember that it is your own behavior more than astrology that makes your destiny. Allow your creativity to be expressed. By putting yourself out there, you will be rewarded. Your most compatible allies are the Horse, Pig, Rabbit and Tiger. For protection do the Golden Cicada on Chinese New Year and on your birthday this year and carry your close friend the Horse.

MONKEY – 1920, 1932, 1944, 1956, 1968, 1980, 1992, 2004, 2016
Versatile Monkeys use their lively, clever and ambitious personalities to their advantage. This year your versatile talents will pay off financially. In addition, you have many benefactors supporting your success. Single Monkeys have good aspects for finding the right partner. For those married building a harmonious family should be a priority. Insure your success by doing good deeds, being humble and having gratitude for those around you. Your good friends are the Dragon and Rat and a Horse is your lucky talisman.

ROOSTER – 1921, 1933, 1945, 1957, 1969, 1981, 1993, 2005
The Rooster is a talkative, perfectionist who is known for directness and hard work. This is not an auspicious year for the Rooster, yet the kindly Ram lessens the harmful impact. Temper your emotions and reactivity as you will need all your senses to avoid any misfortune. As it will be difficult to make progress, guard your finances and be conservative. Romantically don't spend time with anyone who doesn't appreciate you. Your compatible signs are the Snake, Ox and Dragon. It is important to do the Golden Cicada and Changing the Chi of the Home rituals. A Horse talisman will help you to avoid dangers.

DOG – 1910, 1922, 1934, 1946, 1958, 1970, 1982, 1994, 2006
Dogs are loyal and likable, intelligent and morally sound. The year of the Ram is 'mutually offensive' with the Dog so it is not a year to expect big returns but instead be content, realistic and practical, Work towards future goals. Avoid all confrontations with family and colleagues. Be sincere and generous in all your dealings. In general, women are more fortunate than men of this sign in 2015. Dogs are compatible with the Horse, Rabbit and Tiger. Doing the Golden Cicada ritual and carrying a Horse charm will be supportive this year.

PIG – 1911, 1923, 1935, 1947, 1959, 1971, 1983, 1995, 2007
The intelligent, social and likeable Pig is a pleasure seeker. The Pig is in the 'Three Harmonies' position with the Ram (and Rabbit). This year your career could take off and students will excel in their work. Although things happen easily, be cautious with any risky investments and do not act on impulse. Relationships could come and go, so be attentive to the ones you have. As your health could be challenged, be attentive to any minor problems immediately. You are most compatible with Rabbits, Rams and Tigers. Carry a Pig and Rabbit this year.
According to ancient tradition there are 3 types of luck – Heaven, Earth and Man-made luck.
Heaven luck is your astrology, which cannot be changed. We cannot change the time, place or family we were born into. Earth Luck is where Feng Shui comes into to play and can either strengthen your luck by attracting auspicious energies and protect or prevent negative energy from coming to us. Manmade Luck is what we create through networking, education, good habits, self-improvement, meditation, etc.
If you would like help insuring your Earth Luck with specific Feng Shui recommendations for your home and/or office in this Year of the Wood Ram, please contact me for an on-site or phone consultation at:
Sacred Currents  |  212-410-1832  |  917-903-9390  |  judith@sacredcurrents.com
'Gung Hey Fat Choy'
(Wishing You Prosperity), Judith Wendell