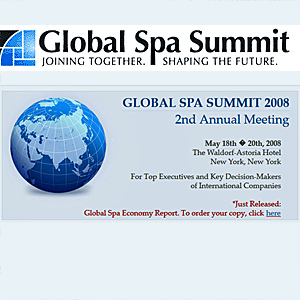 SUMMIT 2008
"ADVANCING THE GLOBAL SPA ECONOMY"
May 18th-20th, 2008
The Waldorf Astoria Hotel, New York City
New York City in Manhattan

For Top Executives and Key Decision-Makers of International Companies to bring healthful change to business.
The Global Wellness Summit is an international organization that brings leaders and visionaries together to help shape the future of the global wellness. The summit is held annually by a group of industry leaders. leaders from all parts of the world gather to solve shared problems. A variety of interactive sessions take place at the Summit. Included are; panel-led discussions, general sessions, small group breakout sessions, and hosted dining conversations. Leaders today can positively impact and shape the future of the global spa and wellness industry.  Understanding the elements and how water can be used in beneficial ways in order bring restore balancing in our actions.
Judith Wendell brings here understanding of the five elements and the healing aspects of water.  She joins a group a panelists in order to contribute the use of ancients techniques to modern practices.
DESIGNING, CREATING AND MAINTAINING A "SOULFUL" SPA
Panel Leader: Robert Henry, Principal, Robert D. Henry Architects, New York
Panelists:
Roberto Arjona,General Manager, Rancho La Puerta, Mexico
Ellen Sackoff, President, Cornelia, New York
Judith Wendell, Founder, Sacred Currents, New York
Terence Yallop, President & CEO, EarthSea Management, Inc and Real Music, California