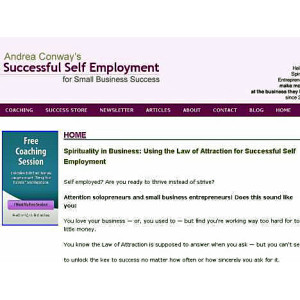 Teleclass ~
FENG SHUI YOUR OFFICE FOR PROSPERITY!
November 19, 2008: Join Judith to explore ways to bring the Feng Shui office advantage into any work space. Andrea Conway, the call's host, says, "I became a believer in the power of Feng Shui after my teleclass guest, Judith Wendell, consulted with me on my home office in Denver this summer. My monthly income immediately shot up more than 20%."
8 Point Feng Shui Home Office Checklist for Success:
Never have your back to the door unless you have a reflective surface in front of you so that you can see the door.
Have a full view of the door without being in direct line with it and never sit behind the swing of your door.
If your door faces a window something as simple as a crystal in the window can help the 'chi' or life force from flying out too quickly (with your business in hand!)
The further back you sit in a room the stronger your position.
Never work on a glass top table or desk – you may lose work or it may not be strong.
It is most favorable if your desk has front & side panels to protect you and your work.
Ideally your work should flow from left to right on your desk…from 'new beginnings' to 'completion'.
It is important to have a solid wall behind you. If that's not possible then have the highest back chair you can.
Hear the Teleclass on Successful Self Employment with Andrea Conway »
Podcast: Play in new window | Download