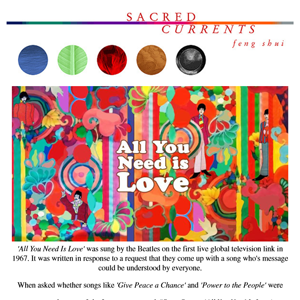 All You Need Is Love
was sung by the Beatles on the first live global television link in 1967.
It was written in response to a request that they come up with a song who's message could be understood by everyone.
When asked whether songs like 'Give Peace a Chance' and 'Power to the People' were propaganda songs, John Lennon answered, "Sure. So was 'All You Need Is Love.' I'm a revolutionary artist. My art is dedicated to change."
LOVE
Let's Change the World With LOVE
See the sidebar link to sign up for the Sacred Currents Newsletter.  Receive fascinating facts for everyday life from ancient knowledge so that teachings universal principles can be shared with you. Learn the magic behind Integrative Interior Design, Feng Shui Consulting and  Space Clearing in order to improve your environment.  Your e-mail address is kept secure so that you my subscribe safely.  Unsubscribe at any time.
View PDF: http://sacredcurrents.com/pdf/2015-02-13-All-You-Need-Is-Love.pdf