RENEWAL
'Tis the season of renewal in world cultures and religions.  Easter just past, a festival and holiday celebrating the resurrection of Jesus, described in the New Testament.  The Jewish people are in the midst of celebrating the 7 day holiday of Passover as a commemoration of their liberation by God from slavery in Egypt and their freedom as a nation under the leadership of Moses.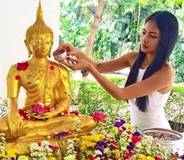 A lesser know holiday to us in the West is Songkran celebrated mid-April in Thailand, Laos, Cambodia, Myanmar, Sri Lanka, parts of northeast India, parts of Vietnam and Xishuangbanna, China.  The word "Songkran" comes from Sanskrit, meaning transformation or change. The term was borrowed from Makar Sankranti, the name of
a Hindu harvest festival celebrated in India in January to mark the arrival of spring.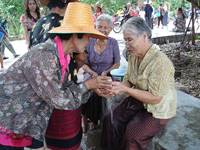 The celebration is rich with symbolic traditions
Mornings begin with merit-making. Visiting local temples and offering food to the Buddhist monks is commonly
 practiced. On this specific occasion, performing water pouring on Buddha statues is considered an iconic ritual for this holiday. It represents purification and the washing away of one's sins and bad luck.  As a festival of
unity, people who have moved away usually return home to their loved ones and elders. To show respect, younger people often practice water pouring over the palms of elders' hands. Paying reverence to ancestors is also an important part of Songkran tradition.  
In modern life however, the holiday is really known for its water festival which is mostly celebrated by young people. Major streets are closed to traffic, and are used as arenas for water fights. Celebrants, young and old, participate in this tradition by splashing water on each other. Although I have not been there for the celebration (yet) I do know it is not for the faint of heart!
Then (right in my backyard), The New York Times reported that yesterday was "Easter Monday" in Poland, and residents of Little Poland in Greenpoint, Brooklyn, are celebrating Smigus-dyngus(pronounced SHMEE-goose DING-goose), also known as Wet Monday.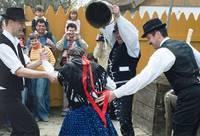 The spring celebration, held the day after Easter, includes a tradition of young men dousing water on women as part of a courting ritual. Today, the ritual has evolved to include squirt-gun battles and water fights among friends and family in Little Poland. (Women, these days, fling water as well.) New York hosts the largest population of people of Polish ancestry in the United States." Clearly water is the element of purification and life!
May this time of renewal be a rebirth for you and our planet. 
Blessings,
Judith
____________________________________________________
Integrative Interior Design ~ Feng Shui Consulting ~ Space Clearing 
Judith Wendell  212-410-1832   917-903-9390  
SacredCurrents.com  judith@sacredcurrents.com