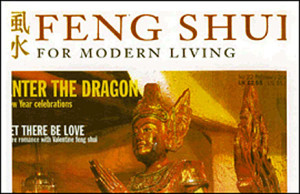 Feng Shui for Modern Living
Why curse the darkness when you can light a candle.  We all know about that.  But how about the qualities and placement of a candle, author Tina Ketch's Fen Shui Candle Lightning (US$18.95) is designed to illuminate one's needs with a flick of a Bic and a bit o' bee's wax.
"Each bagua section refers to health about what ails or fails you," claims Ketch.  Listed in Who's Who In America and Time Magazine, USA Today voted her best in her field.
On a compatible candle-conscious note, FS – entrepreneur Judith Wendell's clients – including NYC' Felissimo, Soho's Kirna Zabet and Arizona's Miraval Spa-wax poetically about her bagua-design-aligned candles.  Each is design with an octagonal shape, specific color, organic essential oil and vibrational crystals, and are available at: www.newdimensions.com or +1-212=410-1832.
"People should follow their intuition to distinguish which area of their life needs balance," Wendell shares.  Her tips are for Abundance – the Wood element of the purple candle with dear oil and carnelian crystal; Recognition – fiery red, clary sage oil embedded with amethyst; Relations – pink, geranium rose oil with moonstone crystal embodying the yin earth energies; Completion – metallic white candles with rose quartz crystals and pine oil; Benefactors – silver candle with lemongrass oil and Sodalite gems representing yang, masculine energies; Path in Life – for career and social enhancement, black with smoky quartz crystals and peppermint oil; Self-knowledge blue, rosemary – 'new' wood green with adventurine crystals and bergamot oil; and Unity – bagua's center of orange and lavender with garnet for health.
View PDF file for Feng Shui for Modern Living, February, 2000 »