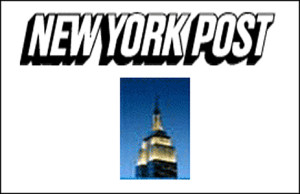 Feng Shui and the Empire State Building
Vornado Realty Trust's pro­posed 15 Penn tower could cre­ate neg­a­tive "chi" — en­ergy — in the neigh­bor­hood and kill a ma­jor deal at the Empire State Building.
It will also cer­tainly af­fect world­wide visi­ta­tion to the Em­pire's 86th-floor ob­ser­va­tory, which would look di­rectly into the face of Vor­nado's "Gi­ant Fin­ger."
While not a di­rect com­peti­tor for the kind of high ­stakes, high-rent ten­ants that a mod­ern, technology-driven tower might en­joy, the Em­pire's bat­tle for sky­line supremacy may be driven by just one go­rilla-sized ten­ant.
Em­pire State Build­ing owner Malkin Prop­er­ties has been se­cretly ne­go­ti­at­ing a nearly 500,000-square-foot likely con­sol­i­da­tion lease with Hong Kong-based global man­u­fac­tur­ing sourc­ing and sup­ply com­pany Li & Fung, which is its ten­ant here and at two other prop­er­ties.
But Li & Fung CEO Wil­liam Fung, a feng shui be­liever, will likely be put off by Vor­nado's Gi­ant Fin­ger, which would rise just a block away and in the di­rect western face of the Em­pire.
"It is di­min­ish­ing the 'chi' away from the Em­pire State Build­ing," said Ju­dith Wen­dell of Sa­cred Cur­rents, a lo­cal feng shui prac­ti­tioner who said the Em­pire's vis­i­bil­ity is crit­i­cal to its strength.
"Sym­bols are im­por­tant," Wen­dell said. "The build­ing is get­ting swal­lowed up and its po­tency is di­min­ished."
NEW YORK POST AUGUST 25, 2010
LOIS WEISS
View Full Article for "A Matter Of Feng Shui" from the New York Post, August 25, 2010 on PressReader.com »