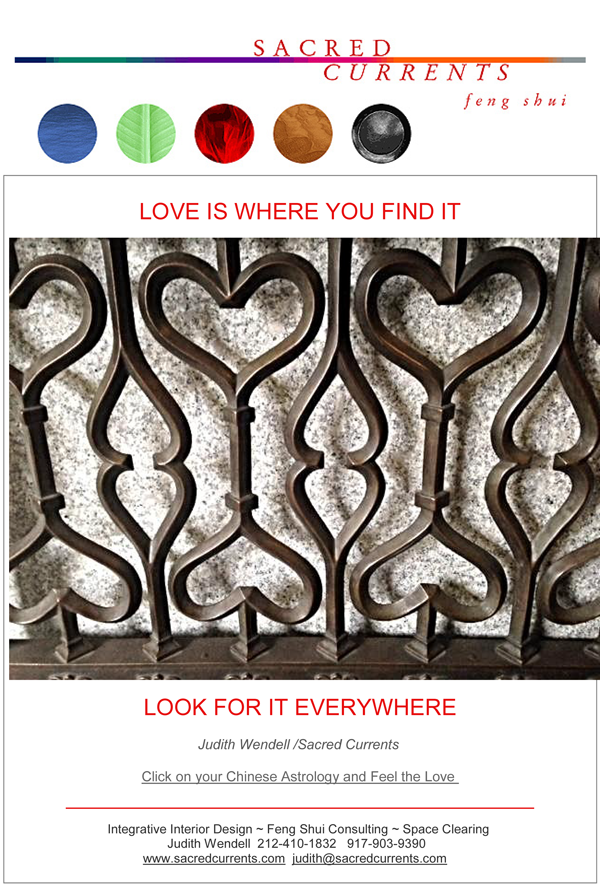 Click on your Chinese Astrology and Feel the Love
Love is Where You Find It
Look for it everywhere
Judith Wendell /Sacred Currents.
Love and Feng Shui in the Year of the Monkey. Each zodiac animal has its own qualities that are consistent year to year.  However, every sign will be influenced by the Monkey's energy this year. Below are some insights for each zodiac animal in 2016. Please note that fortunes can be reduced or enhanced with Feng Shui, rituals, meditations and transcendental adjustments.  All people have their own karma to consider. A personal, in depth reading will reveal more specifics for each month. Remember that even the luckiest signs (the Rat and Dragon this year), have their cautions.  The unluckiest (the Tiger and Pig) have their bright spots.
The 5 Elements (which you can read about at http://sacredcurrents.com/about-feng-shui/about-elements/) are Water, Wood, Fire, Earth and Metal. This year's Monkey is in the Fire element, which opposes the Monkey's natural element – Metal. Thus, it may be a trying year and one with potential volatility, especially for the financial markets as the Metal Monkey is associated with gold or money. On the other hand if you tend the Fire carefully, it can shed light on the opportunities you are looking for.
As the Monkey is known for being clever, intelligent and resourceful, it should be a year of new innovation and invention. The Monkey is a problem solver but he can also create them. This is a time of risk taking and there is the potential of sudden changes of all kinds (don't try to keep a Monkey down). It is important to keep your sense of humor in the year of the unpredictable Monkey.