The following information is compiled from a large group of resources and there are many (sometimes conflicting) interpretations on the year ahead. For those of us less familiar with the Chinese Zodiac, it is made up of 12 animal signs and 5 elements, comprising a 60 year cycle. This calendar of 'stems' (animals) and 'branches' (elements) begins on the second New Moon of the Winter Solstice, which this year falls on February 16.  Yet, the Chinese Solar New Year begins in the Orient on Feb. 3 or 4. In 2018.  This is a bit confusing to us Westerners.  In general, I would suggest that you make preparations for the New Year starting on Feb 4th and completely them by February 15th this year. However, doing things any time of the year is preferable to not doing them at all!
This is the year of the EARTH DOG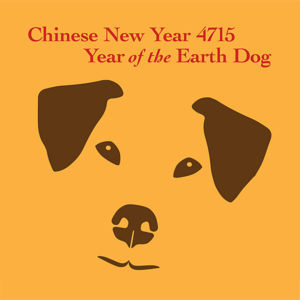 Ancient lore says, Buddha invited all of the animals in the world to join him for the New Year celebration, but only 12 animals bothered to turn up. As a great reward, Buddha named a year after each one of them and they run in the order that the animals arrived to celebrate with Buddha, starting with the Rat and ending with the last guest, the Pig.
The 5 Elements
(which you can read about at http://sacredcurrents.com/about-feng-shui/about-elements/) are Water, Wood, Fire, Earth and Metal.
This year's Earth DOG is compatible to the Dog's natural element – Earth. Thus, the year should be harmonious. 
This year should reveal a time of more honesty, fairness, and integrity as the  Dog will sniff out corruption and give voice to the 'underdog'.
The Chinese Horoscope for 2018 predicts that this year of the Earth Dog is going to be a good year in many respects. However, guard against pressure or stress and do not postpone what is needed to do.  In general it is an important year for us to pay more attention to our health through rest, excerise and diet.
It is always fun to name a few famous Dogs. These include Winston Churchill, Mother Teresa, Elvis Presley, Bill Clinton, Donald Trump, George Bush Jr, Steven Spielberg, Madonna, Michael Jackson, Justin Bieber.
____________________________________________
Prior to the Lunar New Year, it is a good idea for all of us to 'clear house' both physically and metaphorically.
In other words clean up outstanding debts, issues and generally complete things before the lunar New Year. All signs will do well to perform the 'Golden Cicada Sheds Its Shell' ritual, along with 'Welcoming in the Wealth God' and 'Changing the Chi of the Environment.'  Email me if you are interested in knowing more about these rituals.
According to Flying Star Feng Shui, the South is where the wealth star (the 8 star) is residing in 2018. This area will be enhanced with activity, a water element or something moving like a kinetic sculpture.  However, something called '3 Killings' is In the North this year along with the 5 Yellow Star, which can be the cause of instability and illness there.  For more specific adjustments and/or personalized recommendations for your astrology and floor plan, call for a phone for an onsite consultation.
Each zodiac animal has its own qualities that are consistent year to year, yet every sign will be influenced by the Dog's energy this year.
Below are some insights for each zodiac animal in 2018. Please note that fortunes can be reduced or enhanced with Feng Shui, rituals, meditations and transcendental adjustments and that all people have their own karma to consider. Remember that even the luckiest signs (the Rabbit, Horse and Tiger this year), have their cautions and the unluckiest (the Ram, Ox, Dragon) have their bright spots.
All of the transcendental adjustments suggested are available in H.H. Grandmaster Lin Yun's Year of the Rooster Almanac available at the Lin Yun Temple website www.yunlintemple.org/
Individual adjustments can be acquired through Sacred Currents by sending 9 Red Envelopes with $2 in each – $18 in total, and a self addressed white envelope to:
Sacred Currents
c/o Judith Wendell
11 East 88th Street 7D
NYC, NY 10128
The "Golden Cicada Sheds Its Shell" requires cinnabar. Please include an additional $9 ($27 total) if you want it sent with the ritual.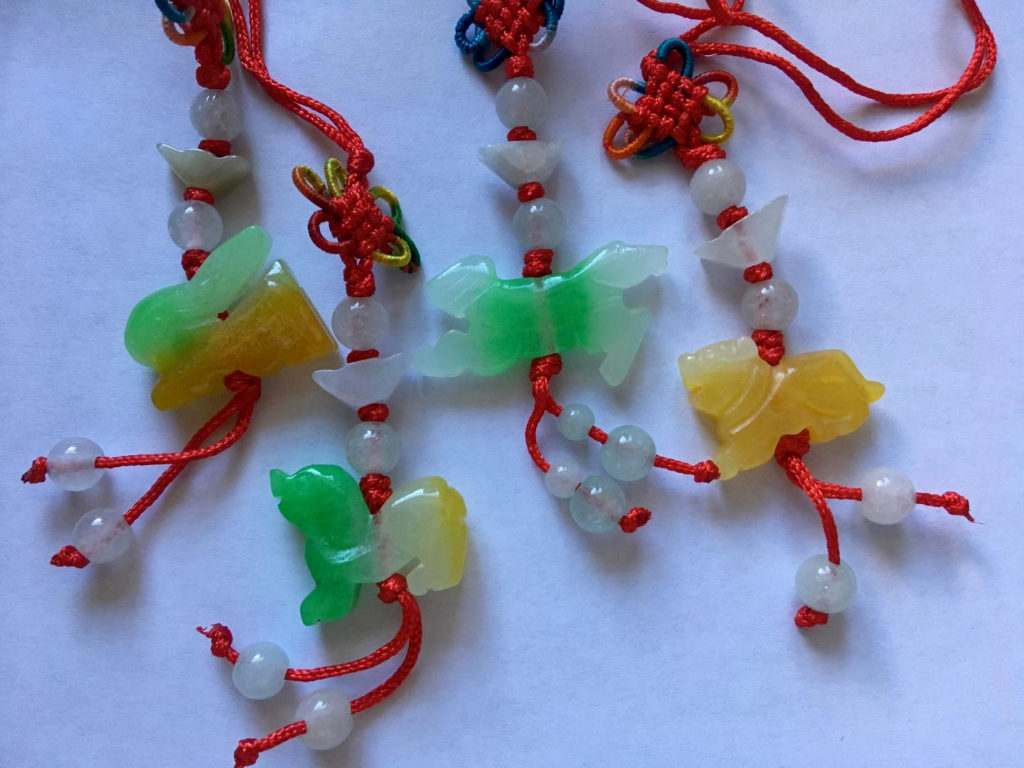 A 3-dimensional Dog, Horse, Tiger or Rabbit (the luck animals for the year depending on your year of birth – see below) can be acquired through Sacred Currents.
Send $9 for each animal ordered and $6 for priority postage (regardless of the number of animals you order.) Again, send your address and check to the address above.
____________________________________________
INSIGHTS FOR THE 12 CHINESE ANIMALS:
RAT – 1912, 1924, 1936, 1948, 1960, 1972, 1984, 1996, 2008

Rats are charming creatures with a large dose of intelligence. The Dog year has challenges for the Rat.  Both professionally and personally it is a time to take care to avoid challenging your finances.  Health and well-being are important investments and not expenses to cut.   Take extra precautions with investments and do not take unnecessary risks in general.  Yet the Dog year can be a time to step out to meet new opportunities and influence people.  Oxen, Dragons, Snakes and Monkeys are the Rat's good friends. The talismans to carry are the Rabbit.  It is suggested to perform the Golden Cicada Sheds Its Shell ritual for protection.
OX – 1913, 1925, 1937, 1949, 1961, 1973, 1985, 1997, 2009

The Ox is dependable and works hard to accomplish the goal. They generally do not form many close relationships but are reliable, loving partners.  This is potentially a better year for female Oxen as their finances and recognition are on the rise.  Yet both male and females should keep be aware of scoundrels lurking.  Male should not allow themselves to be sexually involved with anyone inappropriate.  You will benefit from generous acts of kindness. You're compatible with the Rat, Rooster and Snake. Carrying a Horse and Tiger talisman will keep you in good stead.
TIGER – 1914, 1926, 1938, 1950, 1962, 1974, 1986, 1998, 2010
The wonderfully intense vitality of the Tiger makes you both passionate and optimistic.  This year the Tiger is in 3 Harmony with the Dog (and Horse).  This year has the potential to be very profitable and money can come in from both expected and unexpected sources (yes, buy that lottery ticket).  However be mindful with details, especially any contracts or legal documents. Travel of all kinds is in the cards but make sure this year offers you enough downtime  and is balanced with your work.  Carry a Dog for extra insurance. The most compatible signs for the Tiger are the Pig, Dog and Horse.
RABBIT – 1915, 1927, 1939, 1951, 1963, 1975, 1987, 1999, 2011

The Rabbit is best friends with the Dog and after last year's Rooster the graceful and sensitive Rabbit is in for a very happy year.  With little effort you will draw new opportunities, people, admirers and wealth this year.  But with all this abundance, be mindful of eating well and getting rest so that you do not sacrifice your health.  There are particular opportunities for Rabbits born in the years 1951 and 1987, so seize the moment and don't squander time.  If it feel right, do it.  The best partners for the Rabbit are the Rams, Dogs and Pigs. Carry a Dog in honor of your dear friend.
DRAGON – 1916, 1928, 1940, 1952, 1964, 1976, 1988, 2000, 2012

The intelligent, energetic Dragon has high standards for themselves and others and if not too demanding, has the potential to accomplish great things.  However you are challenged this year as the Dragon clashes with the Dog.  Your physical and emotional health must be a priority in order to maintain stability.  Be careful with communications and avoid anger.  Pay close attention to finances.  Remember that doing a good deed a day goes a long way to offsetting negativity.  Your most compatible signs are the Monkey, Rats and Snakes. Carry a Horse and Tiger this year.
SNAKE – 1917, 1929, 1941, 1953, 1965, 1977, 1989, 2001, 2013

The Snake is known for its passion, talents and tenacity and this year and your career should keep you quite busy.  Follow through on creative ideas and don't over-think things, yet do not act hastily.  As will all the signs, make your healthy a priority.  Inspire by example and share your happiness and fortune with family and friends.   For single Snakes romance has strong potential.  The best partners for Snakes are Oxen, Roosters and Dragons. The Dog is your talisman this year.
HORSE – 1918, 1930, 1942, 1954, 1966, 1978, 1990, 2002, 2014

The Horse is a social, optimistic and non-conforming animal. Their changeable nature needs plenty of stimulation.   As the Horse is in 3-Harmony with the Dog and Tiger, this should be a successful year on all fronts.  However, reflect on the past year in order to be clear about your goals for 2018 and don't run to quickly into commitments.  Horses love good company and this should be a year of renewing old connections and meeting new ones.  If a dispute arises try to handle it in the most diplomatic way.  The Horse is most compatible with the Tiger, Dog and Ram. It is best to carry you friend the Dog this year.
RAM – 1919, 1931, 1943, 1955, 1967, 1979, 1991, 2003, 2015

The Ram is a sensitive, good-natured and creative animal.  The good seminarian that you are will benefit from doing some charity work this year.  Avoid home remodeling and getting involved with politics this year.  Pay attention to verbal communication as times saying less will help avoid a legal consequence.  You can gain insights into how those around you are seeing things by observing the situation and speak up when the time is right. Your most compatible allies are the Horse, Pig, Rabbit and Tiger.   It is always good advice to do the Golden Cicada on Chinese New Year and carry a Rabbit.

MONKEY – 1920, 1932, 1944, 1956, 1968, 1980, 1992, 2004, 2016

Versatile Monkeys use their lively, clever and ambitious personalities to their advantage.   They can do most things well and no challenge is too great.  The Dog year will lead to lots of travel for both pleasure and business.  Get out of your comfort zone to explore your inner world of feelings, thoughts and perspectives on life.  Unattached Monkeys may meet their mate however be selective in your social life and take special care of your health and get plenty of rest. Your good friends are the Dragon and Rat but Monkeys are very much in demand, only the Snakes and Tigers do well to avoid them. So carry a Rabbit this year, as he will be your talisman.

ROOSTER – 1921, 1933, 1945, 1957, 1969, 1981, 1993, 2005

The Rooster is a talkative perfectionist who is known for directness and hard work.   They need to keep their emotions in check especially around other Roosters, otherwise you have an ego (I mean cock) fight.  Last year was more or less challenging, being it was your own sign.  This year will continue the trend as the Dog and Rooster have the worst relationship.  Keep a low profile, quietly reflect on what is important to you and pursue it. Do what you can to protect your health.  Stay away from people that might not have your best interests in mind and let go of those things that no longer suit you.  Your compatible signs are the Snake, Ox and Dragon. You should carry a Rooster and do the Golden Cicada ritual or something else protective on the new year.
DOG – 1910, 1922, 1934, 1946, 1958, 1970, 1982, 1994, 2006

Dogs are loyal and likable, intelligent and morally sound. They are diplomatic in all their dealings but if that fails you may see their lovely teeth.  It is thought that being in your own year is challenging.  My recommendations is to start by doing the Golden Cicada ritual on 3 consecutive days starting before the New. Year on the 16th of February.  We can not completely avoid these times but we can certainly mitigate the intensity of the situation.  Be mindful in all your actions and decisions and recognize the value of experiences that make us grow.  Dogs are compatible with the Horse, Rabbit and Tiger. Carrying your best friend the Rabbit will keep you in good stead.
PIG – 1911, 1923, 1935, 1947, 1959, 1971, 1983, 1995, 2007

The intelligent, generous and likable Pig is a pleasure seeker who is not opposed to hard-work.   This year is not without some trials but be patient and know you will always get back on track.  Your finances should be in the black but keep your eye on expenditures.  Pay attention to your surroundings, keeping your awareness sharp.  This could be a year of romance for the Pig.  You are most compatible with Rabbits, Rams and Tigers. Carrying a Rabbit with keep the Dog happy to see you.
According to ancient tradition there are 3 types of luck – Heaven, Earth and Man-made luck. Heaven luck is your astrology, which cannot be changed. We cannot change the time, place or family we were born into. Earth Luck is where Feng Shui comes into play and can either strengthen your luck by attracting auspicious energies and protect or prevent negative energy from coming to us. Manmade Luck is what we create through networking, education, good habits, self-improvement, meditation, etc.
If you would like help insuring your Earth Luck with specific Feng Shui recommendations for your home and/or office in this Year of the FIRE ROOSTER, please contact me for an on-site or phone/skype consultation at:
Sacred Currents | 212-410-1832 | 917-903-9390 | judith@sacredcurrents.com
'Gung Hey Fat Choy'
Wishing You the Blessings of Health, Prosperity
Judith Wendell
Year of the Earth Dog design by Alan Zitko
zitkoroosisl@aol.com
Thumbnail illustrations by The Swimming Paintbrush:
http://www.swimmingpaintbrush.com